Benefits of owning the Bling NFT Souvenirs (Beta)
By having the Bling! NFT in your account wallet, you will be enjoying the benefits below :


Entitled to chance of Air-drop of prize in Day 1 & Day 2 of event
50% Mega Discount on Bling! membership when our membership package launches (It will be launched in Q4 2022)
And coming more privileges on new launching product and events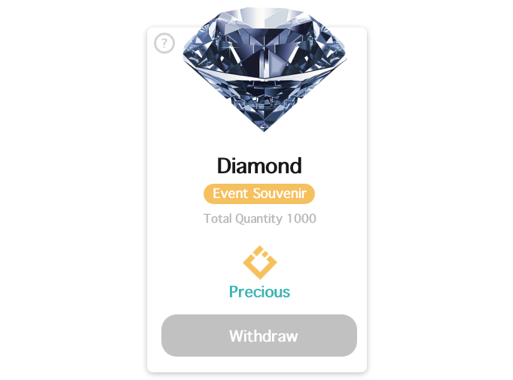 Can I withdraw my NFT ?
Yes you can withdraw your NFT from the Bling! wallet. Bling!'s NFT is using Solana blockchain network. You need to have a
phantom wallet
in order to withdraw your NFT.
By withdrawing your NFT from Bling! wallet, you will be losing all the benefits entitled with the NFT.
Frequently asked questions
What is Bling! NFT Souvenir ?
Bling! NFT Souvenir Beta is a valuable asset created by Bling as a non-interchangeable unit for future talents and fellow participants to take use of all the interactive programs offered throughout Future in YOU 2022. All holders of Bling NFT Souvenir is eligible for exclusive offers and perks from the Bling platform. As long as you hold those NFT, you can keep enjoy those benefits offered by Bling!
Holding the NFT in the Bling platform instantly entitles you all the privileges that come with it. As long as you hold those NFT in your Bling! account without withdrawal, you can keep enjoy those benefits offered by Bling!
Once you have signed up Bling! account and gained access to Future in YOU 2022, you can redeem your NFT which will be directly stored in your wallet at your Bling! account.
Why is my NFT not loading or taking so long to load ?
Since the NFT souvenir is in Beta, it may take some time to generate the NFT. When loading, please stay on the same page. Thank you for your support in developing with us a better version in near future.
Can I give my NFT to others ?
Once retrieved, the NFT will be officially yours, and you will be able to retain or withdraw it to other address. However, you will be losing the benefits when withdrawing the NFT souvenir out of your Bling! wallet.
Can I withdraw my NFT from my internal eallet ?
Yes, you may withdraw NFT using Phantom wallet, but you will lose the benefits of being an NFT holder on the Bling! platform.
Why I cant see my NFT in phantom eallet ?
Make sure you have connect your phantom wallet to this website. Since the NFT Souvenirs is in Beta, please go to setting in your phantom wallet and select 'change network' , and select 'devnet' to view your NFT souvenir. The NFT will be in mainnet soon in launch.
Is there a fee (gas fee) associated with my NFT?
There is no charge (no gas fee) to earn an NFT souvenir here. We have reimbursed the gas fee for you.
30% OFF!
Your gift is waiting for you!
Click the button to find out what we offer! Limited-time only!