Event Organizer
& Co-Organizers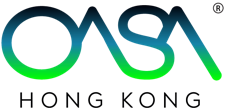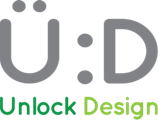 Future in YOU 2022

Let's shape our Future together! Join Future in YOU 2022 - Virtual Summit & Career Expo!
This is a top and fun Asian Future Virtual Summit and Career Expo, incorporating:
30+ Leaders from Corporates to share their Industrial Insights
40+ Interactive Sessions with 60+ Leading Corporates
Be one of the 3000+ Future Talents to explore Global Opportunities
5+ Interesting Online Challenges (Hackathons) with 100+ Challenging Job Offers

Unleash Your Future Possibilities With Us!

Watch Playback

Meet the 30+ Industry Leading Speakers & Professional Trainers
View HERE

We understand ...
HITTING US HARD... The horrendous pandemic affecting a shift in global economy

Year 2021-2022 has been a challenging period for most people.
COVID-19, New norm, Economy shifted, Remote working, Technology diversity, Metaverse ...
& all these new things we have to face in a short time.
No matter if you have just graduated or been a working professional for 10+ years ,
we are all facing an unsure future.


The
FUTURE in YOU 2022
is here to create unique moments
for industries , talents & leaders in meeting, shaping, matching and co-creating a better future for all.


Join us in this regional online event.
Unlock the possibilities of your life career beyond what you can imagine.

Together we shape our future !


Everything

you get in ONE event,

for your brighter future ahead in 2022 !
Industry Speakers & Trainers
Get your
FREE ticket
here!
SHOWs of FUTURE
Featuring Performers
Vivek Mahbubani
Comedy / Game Show / DJ of Fun
TzuRong Yang
Music Show across Past & Future
The Anonymous
Energetic and Positive Music
It is your must-attend event in 2022 !
Forums | Workshops | Hackathons | Job Opportunities | Shows


All you can experience over 2 days!
April 15-16 , 2022
Only This Easter!
Job Offers
Expose talent's competence to corporates: Companies may employ potential talents through virtual booths, networking, hackathons, and SandBox.
Certificates
You will having Certificates and other rewards from workshops and challenging hackathons in recognition of your comprehension.
Latest Industries Insights
We feature a series of interactive workshops and forum led by our professional trainers and speakers.
Experience on SandBox
At our SandBox, we have corporations provide a variety of screening assessments. You can try them on to learn about the requirements of various professions in various industries.
Amazing Offers Awaiting YOU!
A complete registration gives you the chance to collect NFTs & open up a world of possibilities.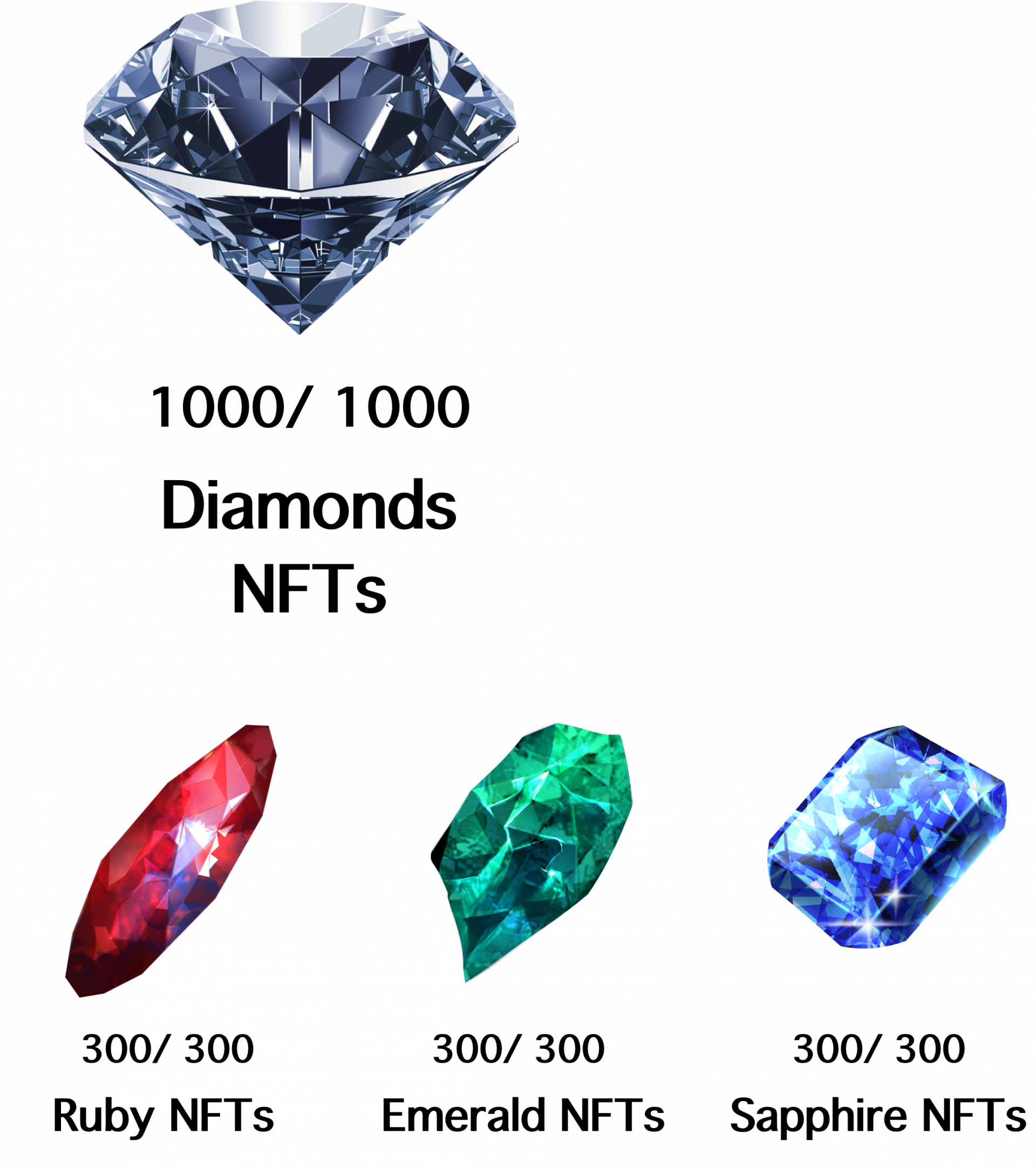 NFTs Souvenir ! Giveaway!

Only issued to registered and attended event participants. Everything is on a first-come, first-serve basis! For FREE !


1000 Diamond NFTs ( Exclusively issue to the FIRST 1000 participants who registered AND attended the event)
300 Ruby NFTs (Claim it upon completing any of the listed workshops)
300 Sapphire NFTs (Claim it on the 1st day by attaining the event )
300 Emerald NFTs (Claim it on the 2nd day by attaining the event)

Benefits of owning Bling! NFT

Numerous benefits (functions) are coming along for Bling! genesis NFT holders

Able to be in the random AirDropping list for winning big prizes in Future in YOU 2022 event
Enjoy special discount (up to 50%) on Bling product coming along
Receive the latest update on special offers and new product launch invitation
And much more too be announced

Lucky Draw !


NFTs souvenir holders will be entitled to random AirDrop of Big Prizes from Apple, Amazon, Netflix, and more.






List of AirDrop prizes in total:


USD $100 Apple Product Gift Card x 2 pcs
USD $100 Amazon Gift Card x 2 pcs
Netflix Gift Card x 4 pcs
and more ...



The prizes will be randomly AirDropped to NFT holders after each Day of the event.

Diamond NFT holders get 1 chance of entry onto the AirDrop list.

Ruby + Emerald + Sapphire NFT collection holders get 1 chance onto the AirDrop list.



Themes
6 significant themes that shape your future
#1 Future of

Sustainable World
Impact
Sustainability
ESG & SDG-17
#2 Future of


YOU



Individual Purpose
Self-development
Motivation
Mindfulness
#3 Future of
Work
HR remote assessment
Remote Working
Inclusion & Diversity
Well-being at Work
New normal
#4 Future of

Digital World
E-commerce
AI & Big Data
Metaverse
AR/VR
Tech Innovations & Disruptions
#5 Future of

Asia
Emerging Markets
Start-ups & Unicorns
Strategy & Disruptions
Agile Development
#6 Future of


Economy
Economy Crisis
Blockchain
Fintech & Digital currency
Venture Capital
New Space Economy
Circular Economy
Live sessions for everyone
Program Rundown (Playback)
15 APR , 9:20 (GMT+8)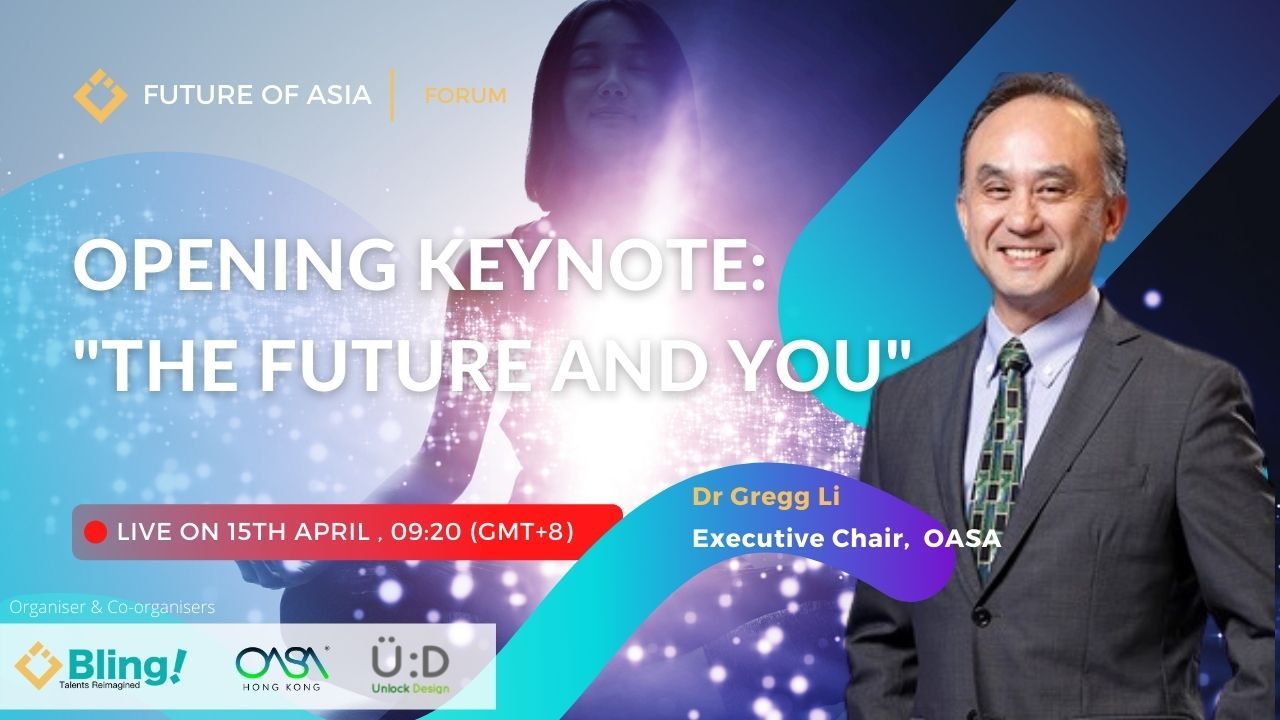 #Future #YOU #Inspiration #Leadership
Future of Asia
Opening Keynote : The Future And YOU
An Opening Keynote of the Day presented by the chairman of OASA, one of the event co-organiser. An inspirational session about the Future to kickstart the day.
By Dr.Gregg Li, Executive Chairs, OASA
15 APR , 9:40 (GMT+8)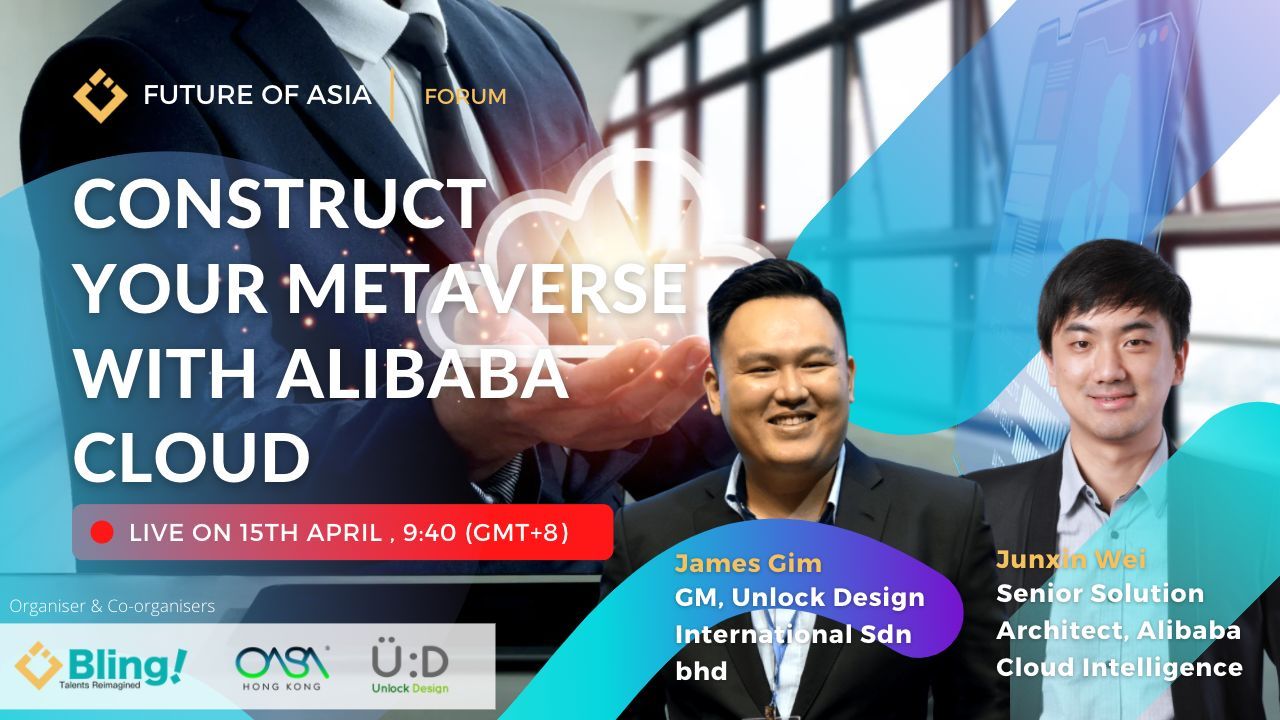 #Future #YOU #Inspiration #Leadership
Future of Asia
Opening Keynote: Construct your Metaverse with Alibaba Cloud
By Junxin Wei, Seniro Solution Architect, Alibaba Cloud Intelligence
with

James Gim

, GM , Unlock Design International Sdn Bhd
15 APR , 10:05 (GMT+8) - LIVE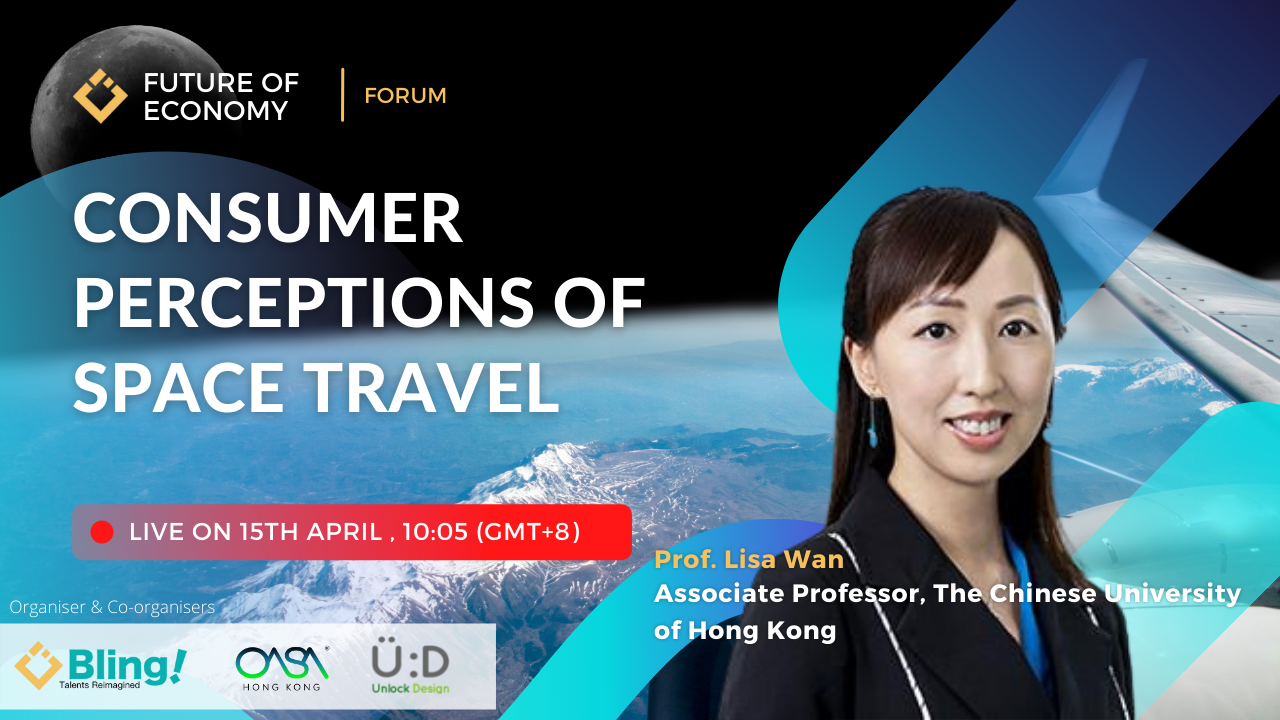 #SpaceTrave #SpaceTourism
Future of Economy
Consumer Perceptions of
Space Travel
Have you ever imagined reaching for the stars, space walking on the moon watching the Earth rising? Although space travel sounds futuristic, it is turning into reality. Space tourism hit an important milestone in 2021 summer when Virgin Galactic, Blue Origin and SpaceX all sent their first batch of tourists to space. It marked the beginning of commercialised spaceflight and the dawn of space tourism that will contribute to over $1 trillion by 2040 for the global space industry (MorganStanley 2020). In this talk, I will share some initial findings about how consumers react to space travel across cultures.
By Prof. Lisa Wan, Associate Professor, CUHK
15 APR , 10:30 (GMT+8) -

LIVE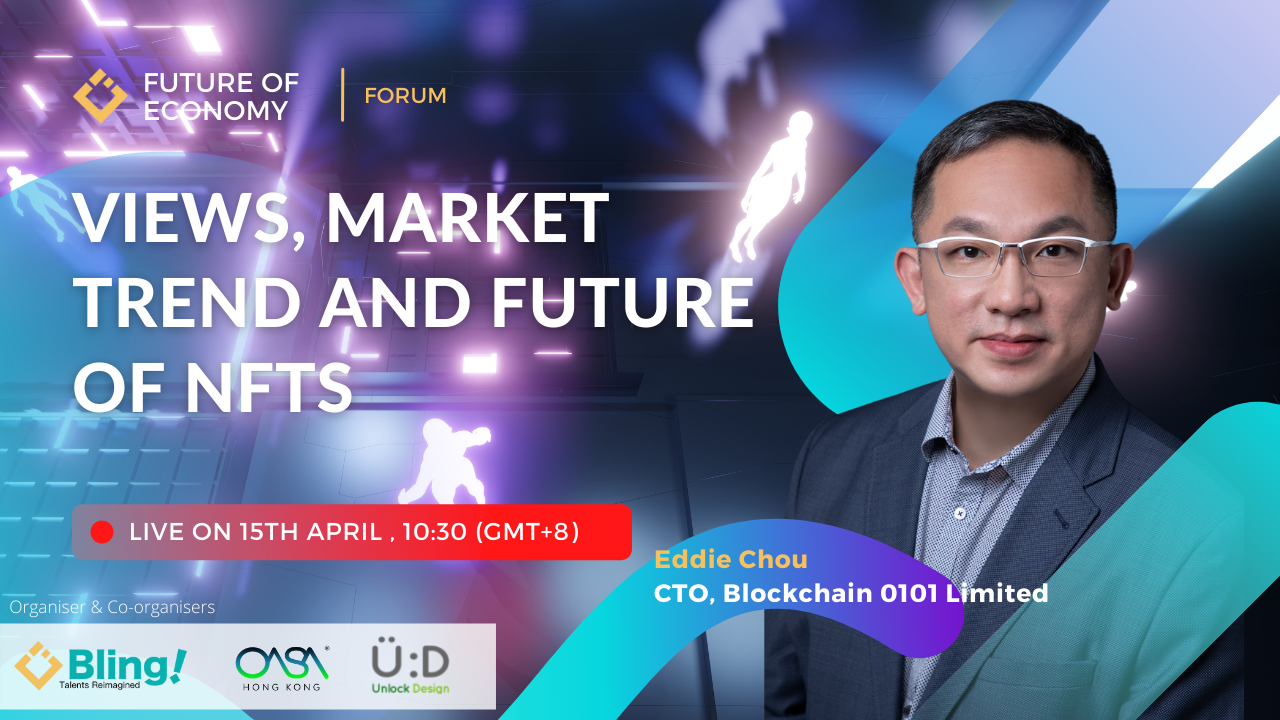 #Blockchain #Crypto
Future of Economy
Views, Market Trend and Future of NFTs
Non-Fungible Tokens (NFTs) surged across the world last year. The global sales volume of NFTs exceeded USD 25 billion in 2021 according to Reuters. The potential and deployment of NFTs have impacted many industries and companies; global giants like Adidas, Nike, McLaren, Samsung, Louis Vuitton - even HSBC are looking to enter the space.
In our short session, we will discuss what is an NFT, and how content creators can publicly authenticate their ownership, origin, and provenance of a digital asset for the first time. How various properties like transparency, tamper-proof resistance and royalties can be programmed and verified on the blockchain's public distributed ledger.
NFTs aren't just limited to digital collectibles. Any tangible or intangible asset can be tokenised; from art, movies and music, to real estate. We shall discuss various upcoming trends and opportunities in 2022 and beyond. Stay tuned!
By Eddie Chou,
CTO , Blockchain 0101 Ltd
15 APR , 11:15 (GMT+8) -

LIVE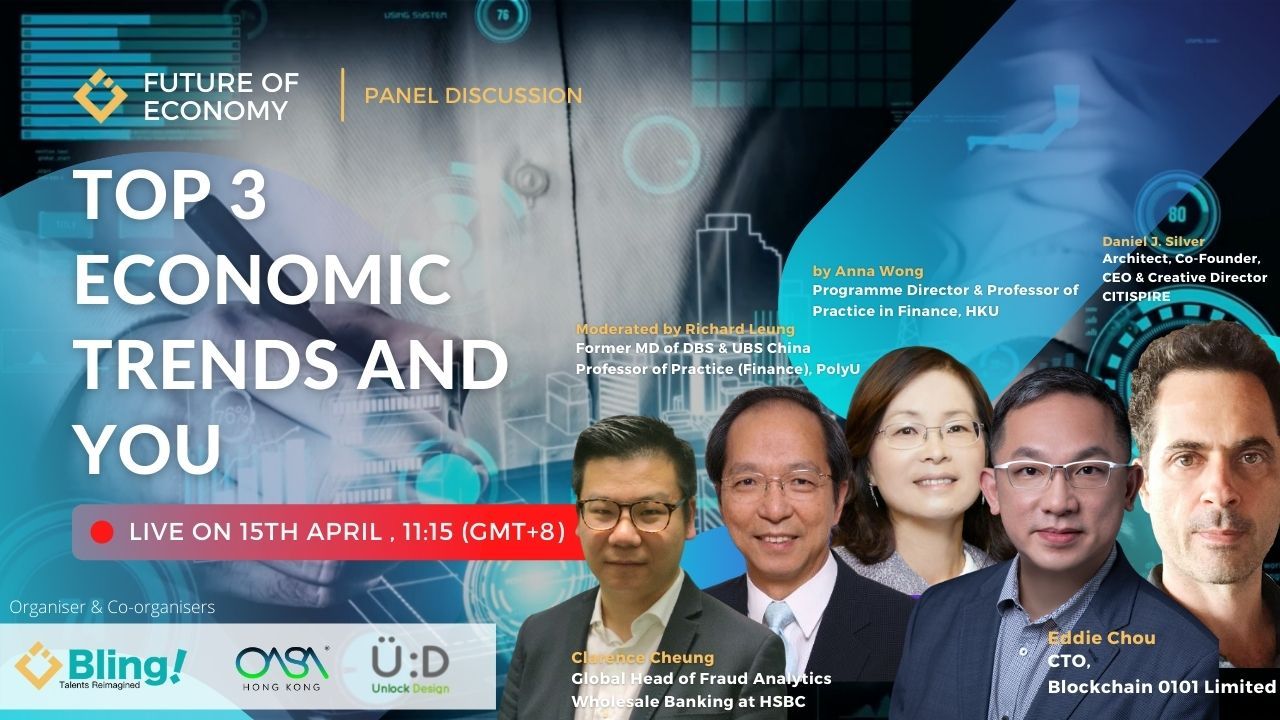 #Blockchain #Metaverse #Finance #Economy #FraudAnalysis
Future of Economy
Top Three Economic Trends and YOU
What are the major economic trends going forward, and how are they going to affect us, including our career? Four distinguished professionals with diverse background and expertise are going to share their views with us. Peter Schumpeter, a brilliant economist in the twentieth century, mentioned technology and entrepreneurship being the key drivers of economic development. So, which technology warrants special attention? How are entrepreneurs faring? What about metaverse, ESG, and others? Please tune in and hear what the experts say.
Moderated
by Richard Leung
, Former MD of DBS & UBS China, Professor of Practice (Finance), PolyU
with
Eddie Chou,
CTO , Blockchain 0101 L
t
d
Clarence Cheung,
Global Head of Fraud Analytics Wholesale Banking, HSBC
Daniel Silver,
Architect
Co-Founder, CEO & Creative Director,
CITISPIR
E
Anna Wong
, Programme Dire
ctor & Professor of Practice in Finance, HKU
15 APR , 12:25 (GMT+8) - LIVE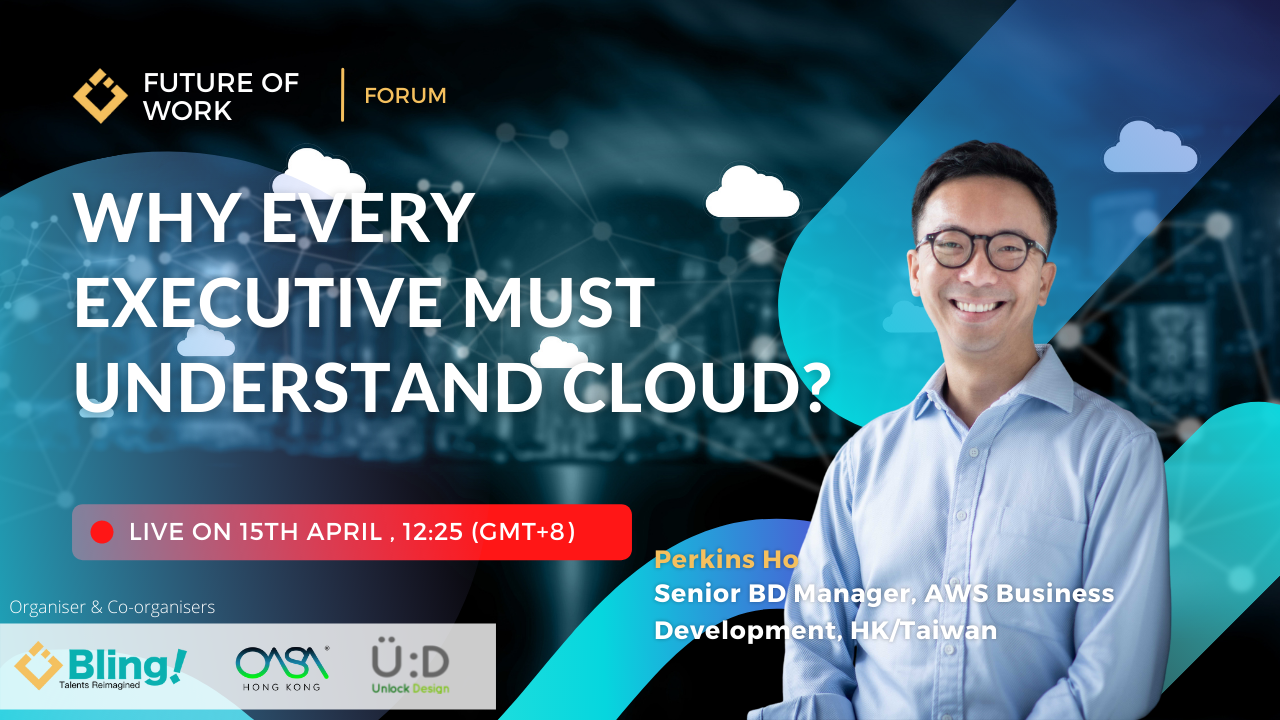 #SpaceTrave #SpaceTourism
Future of Work
Why Every Executive Must Understand Cloud?
Business needs and requirements are changing at an unprecedented pace. It naturally follows that the way in which organizations satisfy those new demands must change as well. Old approaches simply can't keep up. The cloud is central to this. In this session we are going to go into why every executive must understand cloud; and therefore every fresh graduate, regardless of their background and discipline of study, must too.
By Perkins Ho,
Senior BD Manager, AWS Business Development, HK/Taiwan
15 APR , 12:50 (GMT+8) - LIVE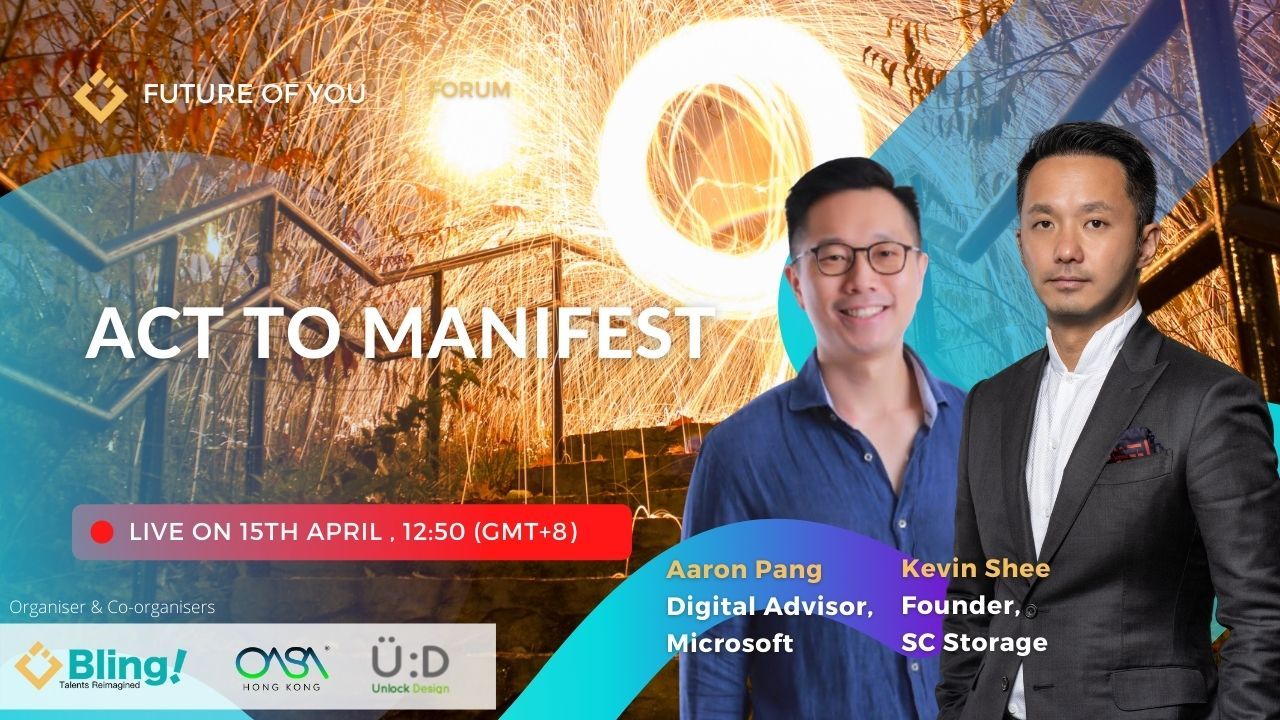 #Life #Career #Motivation
Future of Work
Act to Manifest
Kevin and Aaron met and bonded back in 2015. According to studies, most of our life defining moments happen before the age of 35. For some people, it's sickness, losing their love one. For Kevin and Aaron, they both had a different life altering experience. For Kevin, it was a never-ending fire