Future in You 2022
Door to access the event
The access will be open on the day of the event. You will receive email notification for ticket 2 weeks before the event starts.
What you can do for now ?
For Seminars
Checkout the live seminars session. Mark down your time for your interested topics



For Workshops
Free workshops are in first-come-first-serve basis. Do register your workshop anytime in order to get your seats


For Game Show
We have prepared comedy and gameshow for you in this event. Get prizes and enjoy fun time like never before in a remote live gameshow


Live sessions for everyone
Register your seats for Workshops
15 APRIL , 12:00-12:30 (GMT+8) - LIVE

(Your 1st chance)


16 APRIL , 12:30-13:00 (GMT+8) -

LIVE

(Your 2nd chance)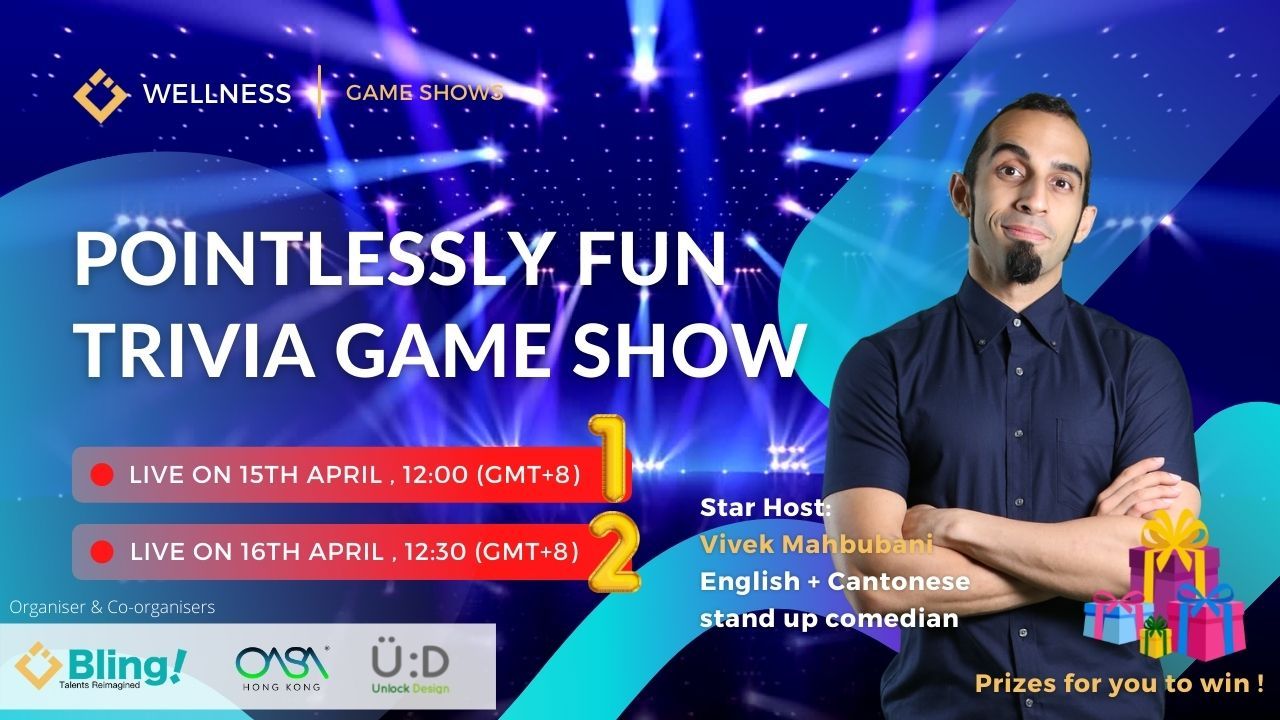 #Wellness #Fun #VirtualGame
Game Show
Pointlessly Fun Trivia Game Show
Join us in this LIVE interactive Game show with our star host "Vivek Maharani", our all time favourite standup comedian. A actual virtual game show that you can play and win big prizes !

See how we get you some POWER without POINTS!
By Vivek Maharani,

English + Cantonese Comedian
15 APRIL , 16:00(GMT+8)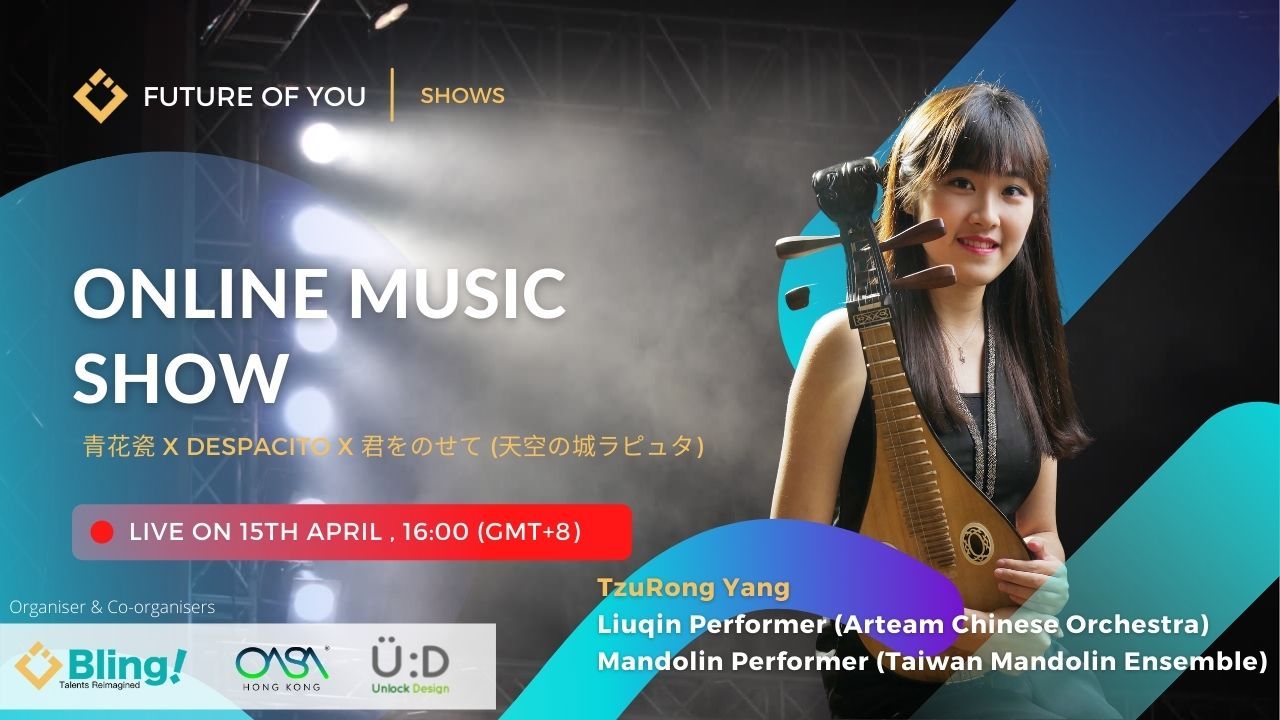 #MUSIC #CHINESE #WESTEN #JAPANESE
Music Show
Online Music Show
TzuRong Yang Graduated from National Taiwan Normal University Institute of Ethnic Music.
She is often invited to perform Liuqin and Zhongruan at home and abroad, with delicate performance and superb skills. She has successively visited China, Japan, Malaysia, and the Philippines. Since 2015, she has participated in well-known domestic orchestra performances, such as Taipei Philharmonic Opera House, Taiwan Symphony Orchestra NTSO, National Symphony Orchestra NSO, and Evergreen Symphony Orchestra ESO Mandolin Performance.

Yang will be performing 3 pieces of music in a unique way , bringing us travel from past to future.
By TzuRong Yang,

a Liuqin, Zhongruan and Mandolin Performer
16 APRIL , 15:45 (GMT+8)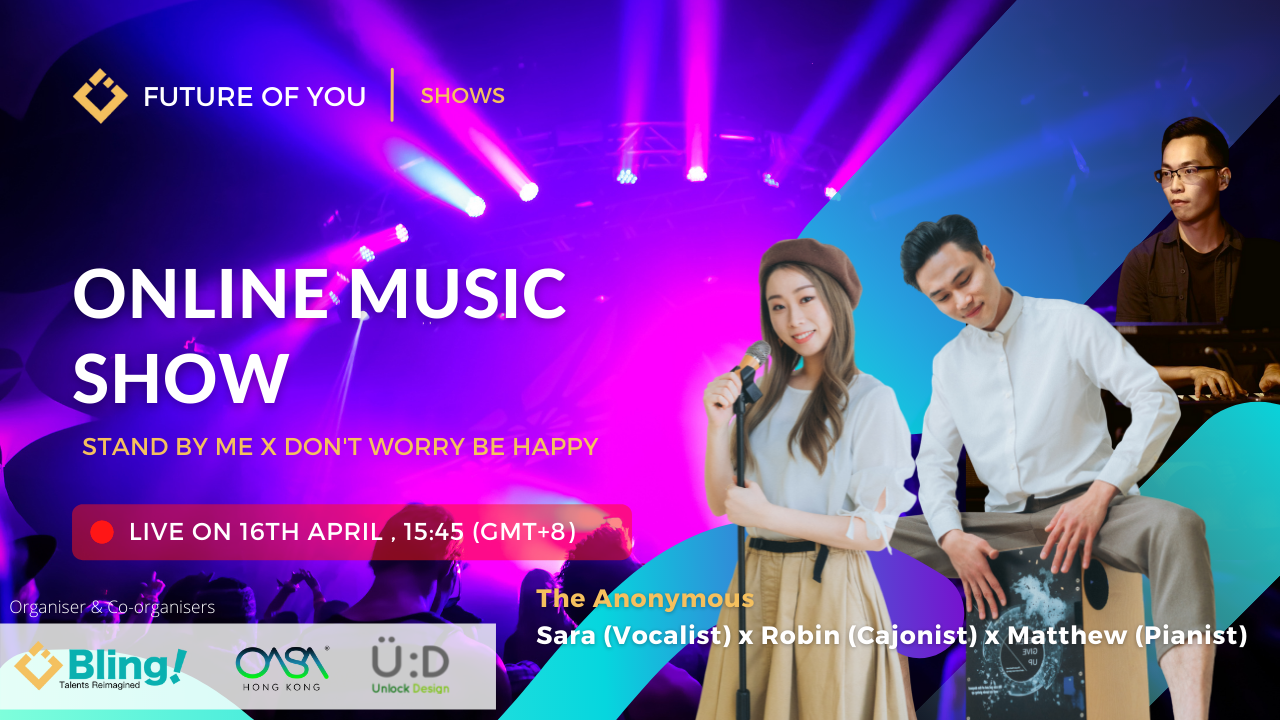 #MUSIC #SINGING #WESTEN #BAND
Music Show
Online Music Show
The Anonymous -
This is a band formed by 4 music freaks from different background, e.g. finance and
insurance, dental manufacturing, composer, music educator and back-up singer. We are here
because of music!
We love sharing our music, sharing our joy. Letting you guys feel the joy of music is the
utmost important goal for us.
No matter who we are.
Let's enjoy the music!
Stay chill, stay relaxed
By Sara
(Vocalist)
x Robin
(Cajonist)
x Matthew
(Pianist)
30% OFF!
Your gift is waiting for you!
Click the button to find out what we offer! Limited-time only!
Created with